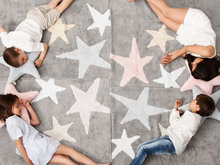 Lorena Canals Katoenen vloerkleden uit Spanje:
Lorena Canals werkt al sinds 1990 vanuit Barcelona en is gespecialiseerd in zachte, zware, en comfortabele vloerkleden voor de baby, junior en tienerkamer. Lorena Canals heeft een eco-vriendelijk productieproces en gebruikt duurzame grond- en hulpstoffen. Het bedrijf ziet er zelf op toe dat er geen kinderarbeid wordt ingezet bij de productie. Wat erg opvalt: Lorena canals werkt met originele dessins met droomautootjes, sterren, stippen of de Engelse vlag gaat, een vloerkleed voor de kinderkamer van Lorena Canals is altijd herkenbaar.

Lorena Canals kinderkamer vloerkleden zijn in een groot assortiment leverbaar, velé designs en velé kleuren, de meeste kleden kunnen wij binnen enkele dagen verzenden per post.

Er zijn drie soorten 'rugs 4 important kids'
• Katoenen vloerkleden – Gemaakt van 100% organische katoen die handgeknoopt wordt in India en gekleurd met natuurlijke producten. Koel in de zomer, warm in de winter. Het katoenen vloerkleed, heel praktisch, keer op keer wasbaar in de machine. Ook handig voor als je kind ergens allergisch voor is of gevoelig voor stof.
• Acryl vloerkleden – Geweven in Spanje van thermisch bewerkt acryl wat zorgt voor een steviger materiaal en vormvastheid. De basis is een stevige rug van jute. Ze worden geweven op Spaanse weefgetouwen en ook hierin zijn weer vele kleuren beschikbaar met sterren en stippen. De maten zijn 120 x 160, 140 x 200 en 200 x 300 cm. Deze vloerkleden voor de baby- en kinderkamer zijn vormvast, stevig en makkelijk schoon te maken met wat water en zeep. Niet wassen in de machine, vanwege de rug.
• Wollen vloerkleden – Gemaakt van wol uit Nieuw-Zeeland die eerst geverfd wordt met natuurlijke stoffen. Vervolgens worden de vloerkleden met de hand geknoopt en geschoren in India. Ook hier is de basis een stevige, juten rug, dus niet wassen in de machine. Alleen verkrijgbaar in de maat 140 x 200 cm.
AITEX
Voor alle kleden geldt dat ze gecertificeerd zijn door AITEX ( Textile Industrie Research Association), het Spaanse equivalent van OEKO-TEX®. De kleden bevatten gegarandeerd geen schadelijke organische dan wel chemische stoffen. Dat is natuurlijk uitermate belangrijk omdat de producten gebruikt worden op baby- en kinderkamer.